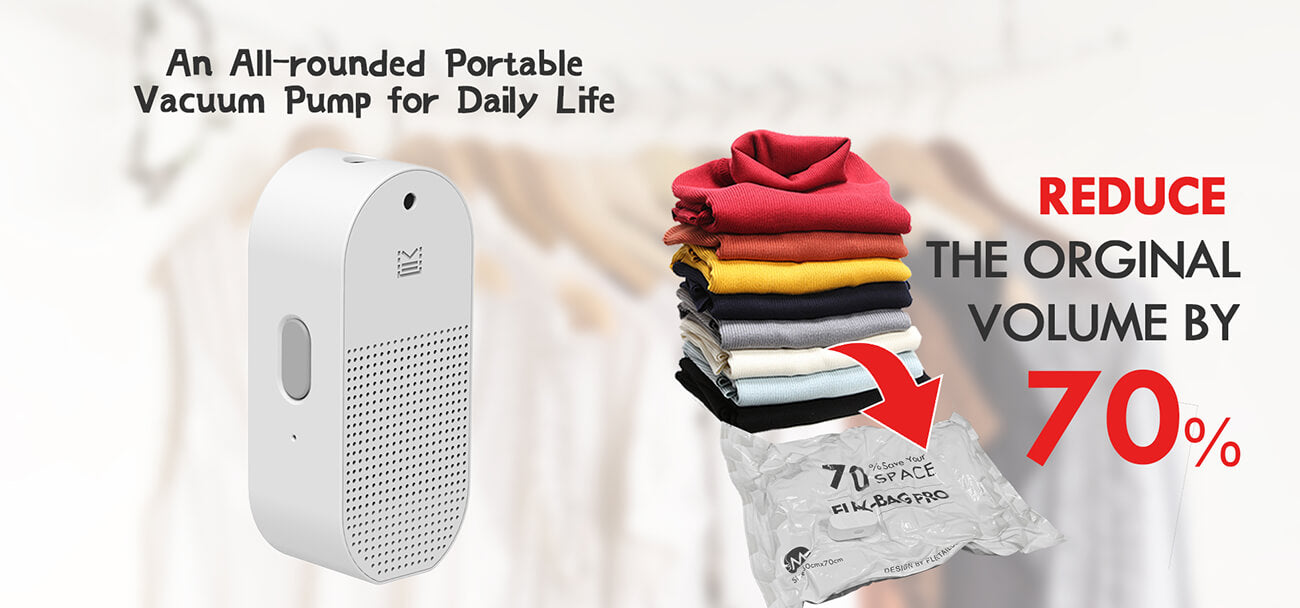 With the usual vacuum bags, you can create more capacity for your suitcase and wardrobe at home. Strong compression, ATMOS can compress more than 50% of the volume within 4 to 5 minutes.Fully automatic ventilation, no pressing and hand holding, free your hands.
It definitely helps to save time when packing, save space in your suitcase / backpack / bags when traveling, and even work well for home storage by saving up to 4x more space in your closet.


FLEXTAILGEAR space saver storage bags come with triple seal valve, provides air isolation for long term storage. There is a cap each valve to impact the rubber stopper. The Internal thread confirms that the cap is completely secure and tight. (NOTE: Do not remove the rubber stopper.)
For long-term sealing solutions, double zip seal may be more in line with your expectations. No air will enter in the bags keeping them super compact and tight for a prolonged period.


Small size, it can be held in one hand and easily fits in pockets, handbags and backpacks. 
The cordless design helps you get rid of the distance limitation, you can use it anytime, anywhere. ATMOS supports fast charging, reaching 100% capacity in just one hour.

Kindly Reminds
1. ATMOS is not waterproof, it is best not to use it in the rain.
2. In order to prevent the motor from overheating and affecting the service life, ATMOS will stop automatically after 10 minutes. Re-use needs to re-open the air pump.
1.Free standard shipping with orders over $27

2.Regional DHL express service available now! Please check your availability during checkout . Estimated Time Efficiency: 6-8 days' delivery in general!

3.USPS service available for United States now!
   Royal Mail service available for United Kingdom now!
   Estimated Time Efficiency: 9-13 days' delivery in general!
   If you want to know more country express information,Please click here!
OUR WARRANTY
Flextailgear designs and manufactures the best portable outdoor gear. We choose the highest quality materials, build to the most exacting manufacturing standards, and test products rigorously. We proudly stand behind our gear: all Flextailgear products carry a lifetime warranty against defects in workmanship and materials to the original owner for the intended life of the product under normal use, with proof of purchase from an authorized Flextailgear reseller.

This warranty does not include damage due to improper use or care, accident, or negligence. This warranty also excludes normal wear and tear and material breakdown due to age, use, or environmental conditions.

Flextailgear's liability for warranty claims will be limited to repair, replacement, or credit. Our warranty does not cover damage to items stored in, or used in conjunction with our products. Warranty decisions are left to the discretion of the Warranty & Returns Department.
One

year warranty on all products,if you want to know more details,please click here !