Description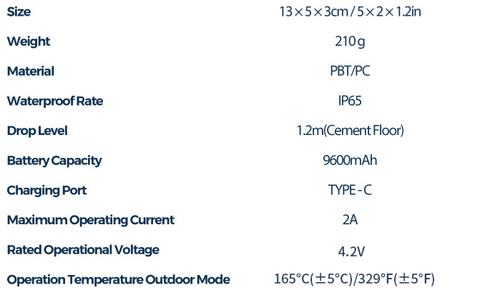 Portable & Ultra Lightweight
Max repel is a professional portable outdoor mosquito repellent that is super compact and can be hung anywhere, giving you full protection against mosquitoes and only weight 210g.
ECO-FRIENDLY
Unlike previous outdoor portable mosquito repellents, MaxRepel does not need to be activated with a fire. Instead, its electric heating working principle is more environmental-friendly and does not require expensive consumables; 
CAMPING MODE
To activate Flextailgear max repel, press and hold the power button for 2 seconds to enter the camp mode and the indicator light turns green.  Press the power button again to turn off the electric mosquito repellent device. The camp mode works for 13 hours when fully charged and covers a diameter of 10 feet range. 
OUTDOOR MODE
Press the power button again to enter the outdoor mode, the indicator light turns red. Press the power button again to turn off FLEXTAILGEAR max repel. The outdoor mode works for 7 hours when fully charged, and covers a diameter of 30 feet range.
Water proof
The outdoor environment is always unpredictable. Max repel is IP65 waterproof. So no matter the mosquito repeller gets wet in the rain, accidentally splashed or even dropped into a puddle, water short circuit will never happen on Flextailgear electronic mosquito repeller.
Max Repel gives you 360° protection.
After many times of testing, Max repel has created its exclusive mosquito repellent pads that are far much better than other repellent pads on the market. Moreover, the mosquito repeller pads are heat-activated on double sides.
Type C Charging & Long Battery Life
With a built-in 9600mAh high capacity lithium-ion battery, you can use Max repel as an emergency mobile power bank.
Product works perfectly.
This little device actually surprised me! It is easy to use it really does keep the mosquitoes away! I live in the Adirondack Mountains, we also have something called "black-flies" in early summer. When they bite you know it! This little machine even keeps them away. No nasty spray coming out either! It just quietly does it's thing :-) Great value for the money.
FLEXTAILGEAR - Portable & Rechargable Mosquito Repeller
Working well.
Handiful gear working very well on dog walking and camping scene.
FLEXTAILGEAR - Portable & Rechargable Mosquito Repeller