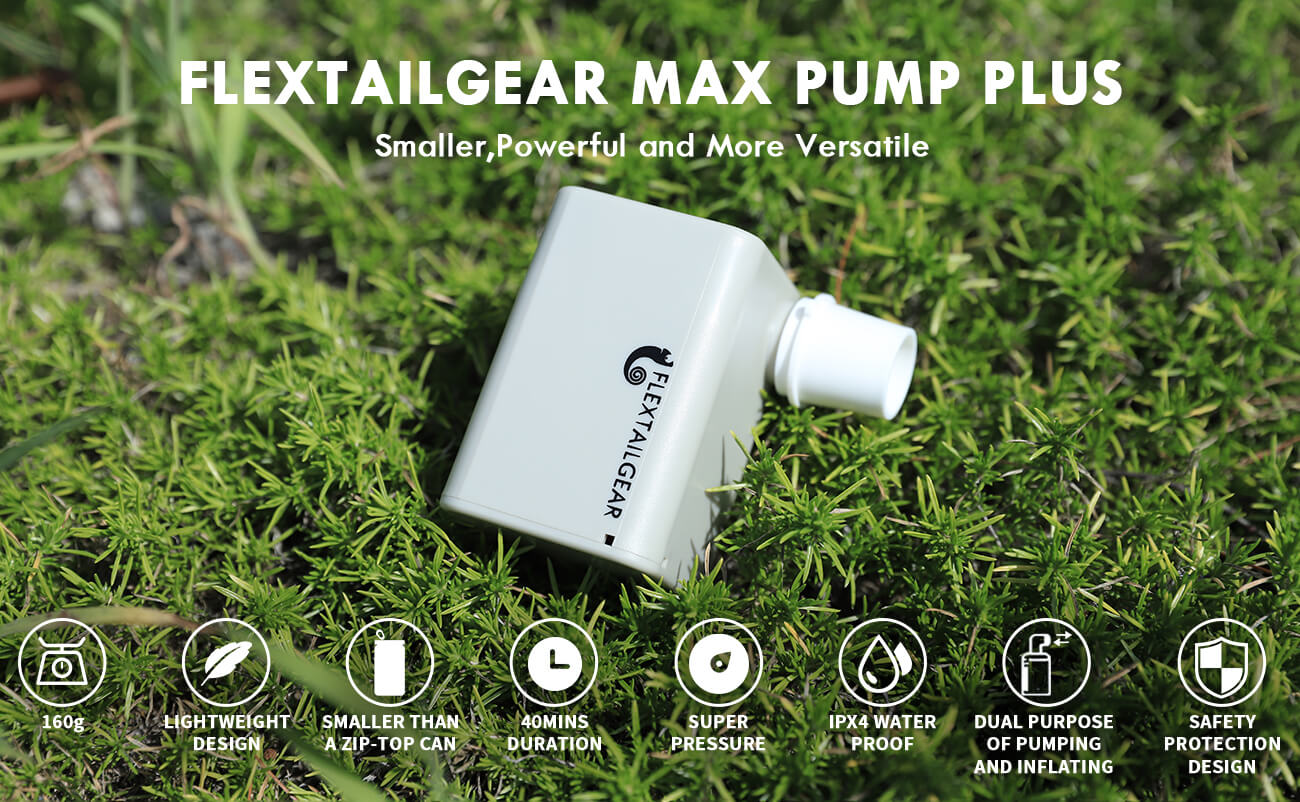 Weighs only 160g, Max Pump Plus is even smaller than a soda can. Its small size makes it super easy for storage and to carry around. With its powerful deflation, it helps to save up to 50% of spaces.

The flow rate of Max Pump Plus can reach 265L / min and the pressure can reach 1.8KPa. It is the perfect tool to bring along when going to the beach in summer; it can quickly inflate and deflate your swimming tube, air mattress, and any other inflatables. With Max Pump Plus, you do not have to worry about blowing air with your mouth.

With a built-in lithium battery of 3600mAH, makes it the perfect tool to use in the outdoor. On a single charge, it can inflate 25 swimming tubes, 10 air mattresses, and deflate 40 vacuum bags. 

Max Pump Plus is not limited to outdoor use, but also perfect for household use. Max Pump Plus is also designed to work with vacuum bag to store spare comforter and out of season clothes. Turn on the deflation switch, it will suck up all the excess air within the vacuum bag quickly.


Waterproof IPX4, use it in the rain or even drop it in a stream. Free your worries. A real outdoor gadget is able to deal with various severe environment.

Made with solid ABS engineering plastics, Max Pump Plus is super durable. After numerous falling tests, it is proved that Max Pump Plus still works perfectly after dropping it from 2-meter high. Its hard shell ensures it remains solid when the temperature is below minus 30 degrees.

Incorporated with high-end technology and excellent design, gives Max Pump Plus the outstanding impermeability.
Do not use for more than 10 minutes.

Keep the inflation port or the deflation port clean.

Please check whether the air pump is functioning properly before use.

Children under the age of 12 must have adult supervision when using the pump.

Battery Maintenance: Please charge it every 3 months if you do not use the air pump for a long time.

1.Free standard shipping with orders over $27

2.Regional DHL express service available now! Please check your availability during checkout . Estimated Time Efficiency: 6-8 days' delivery in general!

3.USPS service available for United States now!
   Royal Mail service available for United Kingdom now!
   Estimated Time Efficiency: 9-13 days' delivery in general!
   If you want to know more country express information,Please click here!
OUR WARRANTY
Flextailgear designs and manufactures the best portable outdoor gear. We choose the highest quality materials, build to the most exacting manufacturing standards, and test products rigorously. We proudly stand behind our gear: all Flextailgear products carry a lifetime warranty against defects in workmanship and materials to the original owner for the intended life of the product under normal use, with proof of purchase from an authorized Flextailgear reseller.
This warranty does not include damage due to improper use or care, accident, or negligence. This warranty also excludes normal wear and tear and material breakdown due to age, use, or environmental conditions.
Flextailgear's liability for warranty claims will be limited to repair, replacement, or credit. Our warranty does not cover damage to items stored in, or used in conjunction with our products. .We provide One year warranty on all products!
HOW TO CONTACT US IN THE CASE OF A WARRANTY CLAIM
Please send the email to our customer service team (service@flextailgear.com) . Include details of the issue, and attach images showing the product. A customer service representative will contact you as soon as possible. We will respond to requests in the order we receive them. Due to the impacts of COVID-19, the response time may be a week or more – we appreciate your patience and understanding.